Dr. Arnn speaks in Crystal Lake about state of education and nation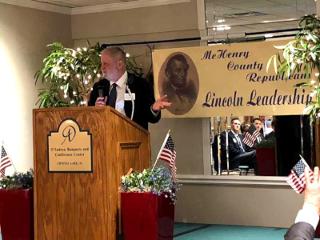 By RICH ROSTRON
Imagine a kindergarten that graduated every toddler with the ability to read. This was one of the messages from Dr. Larry Arnn, the president of Hillsdale College, when he spoke at the McHenry County Republican Party's 'Lincoln Leadership Dinner,' May 15, at D'Andrea Banquets in Crystal Lake.
While Arnn is the president of Hillsdale College, he said the school has opened a significant number of charter schools for children in grades K through 12 across the country.
When he speaks of kindergarten-aged children learning to read at Hillsdale's charter schools, it's in comparison to a March 8, 2013, USA News story titled: "Shocker: 80% of NYC graduates unable to read." Whether the situation is actually that bad or not, most would say it's remarkable for 5-year-old kindergarten children to know how to read.
"Education … by its nature, it is not something we're doing to them; it's something we're doing with them," said Arnn when describing Hillsdale's approach as participatory rather than based on lectures from above. However, he doesn't think it's extraordinary for children to read at that age.
"If they're not starting to read by kindergarten, either they're impaired, or you (educators) are standing in the way."
Arnn also spoke of how many schools in the country are pushing social indoctrination, such as 'Critical Race Theory' and concepts such as 'White Guilt.' He asked rhetorically how it's possible that "you don't feel racial animosity, but you can't cure it?"
Challenges Facing America
Beyond discussing education in America, Arnn spoke of what makes people think.
"About 18 months, 24 months – a miracle happens with children," he said. "They talk."
He said that the common noun, a word that names a person, a place, animal, thing or idea, is the basis for human wisdom. He said that people use their voice to distinguish what is just from what is unjust. "Every time we see a thing to which we can ascribe a common noun, we see its essence," he said.
Arnn said that "the human soul stretches itself out to 'know.'" But the political approach in America today "involves the destruction of human reason."
He accused politicians of seizing on the pandemic to increase their power in government and using COVID-19 to alter election laws. "It's not the rule of law … anymore."
He said that the current political environment poses a serious challenge to the ability of Americans to maintain liberty with a government where power resides in the hands of the people. "We're going to have to think and speak and argue better than we ever have," he said, if Americans hope to preserve liberty.
What is Hillsdale College?
In order to reject governmental interference in the operation of
Hillsdale College
, the university relies solely on private contributions and will not accept any federal grants or loans. Otherwise, students pay their own way.
The school was founded in 1844 as Michigan Central College in Spring Arbor, MI. In 1853, it moved to Hillsdale and changed its name. Its Articles of Association include a statement of gratitude to God for the blessings of "civil and religious liberty" and the goal of providing "sound learning [that] is essential to the perpetuity of these blessings."
Known for its anti-slavery reputation, more than 400 of its students volunteered to fight for the Union during the Civil War. Four of them earned the Congressional Medal of Honor, three became generals and 60 gave their lives. Speakers at the college during the war included Frederic Douglas and Edward Everett (who preceded Lincoln speaking at Gettysburg when the president made his Gettysburg Address).