Opioid Crisis resources - English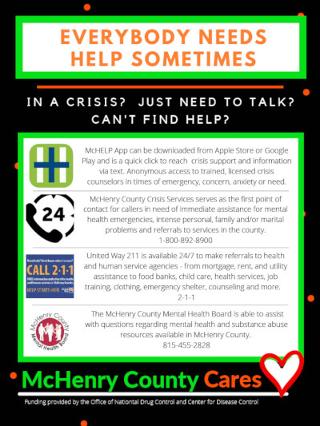 Like the rest of the country, McHenry County has a serious opioid problem. Since 2016, The McHenry County Substance Abuse Coalition has focused its addiction work on the opioid crisis. The number of people who die due to opioid related overdose is dwarfed by the number of people who grapple with addiction every day. According to the Surgeon General, one in seven adults will face a Substance Use Disorder (SUD). Of those, only ten percent will ever seek treatment.
The MCSAC provides education and resources while coordinating data and services for individuals seeking treatment, recovery and prevention efforts throughout the county and surrounding areas. The agency also assists families and friends of those in the cross hairs of the disease.
McHenry County saw the largest number of overdose deaths in 2017 and came together with key partners including the McHenry County Mental Health Board, Northwestern Medicine, McHenry County State's Attorney Office and many others to develop programs leading to significant reductions until last year. Illinois's current overdose death rate is slightly higher than the national rate.
With 51 deaths in 2020, the county's rate is substantially lower than the state or national rate. Even though the actual numbers were higher than the previous year, the rate is considered low. McHenry County has sought evidence-based ways to address SUD in an effort to keep the death rate as low as possible.
Prevention is the first line of defense.
The coalition and their partners provide free education programs in schools, churches, and community events. The programs, starting in third grade, cover prescription medications, tobacco, vaping, alcohol, and cannabis. They are interactive and can include parental programs. Additional topics including the science of addiction and family dynamics of addiction. Local experts can provide education focused on specific substances.
The second level in the fight against opioids
is focused on harm reduction efforts and provided at all stages of an individual's journey. For somebody not using substances, this includes prevention measures. For somebody using, it includes education, clean supplies, naloxone, fentanyl test strips, basic care/food supplies, and resources for treatment.
If someone is attempting to cease or decrease their use of a substance, assistance can include a nicotine patch, Medicated Assisted Treatment (MAT), or alcohol management. In McHenry County, free naloxone, used to rapidly reverse the effects of an opioid overdose, is provided to all law enforcement agencies through Northwestern Medical. Community members can also access naloxone through Live4Lali – (224) 297-4393 – based on funding from the McHenry County Mental Health Board.
The third level is called 'A Way Out.
It allows an individual to walk into any local police department and receive assistance connecting to a treatment assessment with the assistance of a personal navigator. People can also call (815)307-6326 to access the program. Since its inception in 2017, several hundred people have been placed in detox, treatment services, and residential recovery programs.
The fourth level focuses on investments in peer supported residential homes.
Guided support and sober living increase the chance somebody will practice the skills learned in treatment, find a job, and redefine and rebuild healthy relationships. New Directions Addiction Recovery Services has opened many 12-step group homes and increased the opportunity for individuals to remain close to family and friends as they grow in recovery.
Lastly, and most importantly,
McHenry County is a place for non-judgmental and open conversation about what is happening in our community. The stigma associated with substance use disorder makes it a difficult subject for a family to bring up leaving many to struggle in isolation. The goal is to let people know there is no need to walk this path alone. The approach is designed to accept different philosophies while meeting the needs of individuals and helping them to feel safe and valued.
In an emergency, people seeking help can call 911, or the McHenry County Crisis Line at (800) 892-8900. For non-emergency information, they can call any of the McHenry County Cares numbers or McHenry County Substance Abuse Coalition (815) 334-4048 or the mobile number at (815) 701-6004.