Rokita calls on Biden administration to apologize for targeting parents at school board meetings
By Margaret Menge | The Center Square contributor
Oct 25, 2021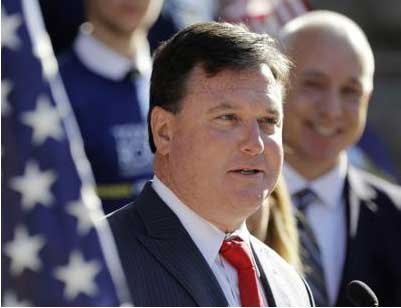 Todd Rokita speaks during a news conference outside of the Indiana Statehouse in Indianapolis.
Darron Cummings / AP file photo
(The Center Square) - Indiana Attorney General Todd Rokita commended the National School Boards Association for backing down from their request the Biden administration use the FBI and Secret Service to investigate parents speaking out at school board meetings across the country, but says that's not enough.
The Biden administration, Rokita pointed out today in a press release, "has still not apologized for its own threat against parents."
"Most Hoosier educators are no doubt as appalled as anyone by Joe Biden's anti-parent bias," Rokita said in the statement Monday. "Now is a time for Hoosiers to unite."
The attorney general specifically called on school boards in the state and also the Indiana Department of Education to "renounce" the
memo
issued by the U.S. Department of Justice, which directed the FBI, Secret Service and other federal law enforcement agencies to work with local law enforcement to monitor parents who are seen as a threat to school board members or school administrators.
On Oct. 18, Rokita led a group of 17 state attorneys general in penning a letter to President Joe Biden and Attorney General Merrick Garland asking them to cease making threats against parents and asserting the First Amendment rights of parents to speak their minds to teachers, administrators and school board members must be protected.
Last week, the president of the board of the Indiana School Boards Association, Tom Simpson, said the association had not formally asked for a retraction of the letter sent to the Biden administration by the National School Boards Association, to which it belongs. He also said they had not had any discussion about withdrawing from the national association, as Pennsylvania had said it was doing.
Simpson said that he was not aware of any specific threats to school board members in Indiana.
The most recent incident of a heated school board meeting in the state actually involved the reverse scenario - a school board member in Henry County who went after a parent, walking around the dais in an aggressive manner toward a father, who was seated and calm, who had called him an "idiot" a few minutes earlier. The school board member had to be physically blocked by a school resource officer who was present, who then turned and asked the father to leave the meeting. The man complied and left without incident.
The most-cited heated school board meeting in Indiana was the one that took place in Carmel, north of Indianapolis, on July 26, when a gun fell out of the pocket of an elderly man and onto the floor. The man was immediately taken out of the room by a police officer who was present and saw what had happened.
In his statement Monday, Rokita called on the Indiana Department of Education to speak up on the Department of Justice memo released Oct. 4 that announced the FBI will work with local law enforcement agencies to prosecute parents viewed as a threat to school board members or administrators.
"Indiana school boards as well as the Department of Education should denounce the DOJ memo," Rokita said. "Sheriff's departments and other police agencies should consider declining any DOJ meetings aimed at repressing parental participation. And everyone involved should work together to facilitate free speech by protecting all participants at school board meetings."
Indiana's Secretary of Education, Katie Jenner, has not issued any public statement on the issue. Calls to the Indiana Department of Education on Monday afternoon were not returned.
The Indiana Sheriff's Association did not immediately return a call seeking comment.