Inventory shortage continues to drive housing market
By Ricardo Lavariega
04/15/2022
Q1 2022 McHenry County Housing Market Review
The 1st Quarter this year saw another series of broken records in home sales. Inventory struggled to meet demand, which caused an increase in the median sales price in McHenry County from January through February. During that stretch, prices reached a record high for March ($280,000 median sales price).
March of 2021, the median sales price was $245,250. The numbers demonstrate a continued strong demand for homes. Supply is struggling to meet demand with March having .7 months of inventory (lowest on record) here in the county. Last March, we only had .9 months of inventory.

The median sales price was $270,000, $275,000, $280,000 in January, February and March, respectively, compared to $245,250, $235,000, and $252,000 last year. This represents 411 homes for sale in January, 348 in February, and 346 in March while last year there were 507 in January, 492 in February, and 478 in March. In January a listing was on the market for 44 days, 57 in February, and 42 days in March compared to 60, 57, and 56 in 2021.
There were 299 home sales in January, 292 in February, and 430 in March. Last year there were 334 home sales in January, 321 in February, and 473 in March. The home sale average for Q1 (2022) was 340 while Q1 (2021) was 376, a 9.5% drop in the home sales average for the first quarter. Supply has been keeping home sales and homes for sale lower over the months.
What are some of the reasons that we are still seeing what we're seeing? One of the biggest drivers of the current home market trend is Interest Rates. The cost of borrowing money is still very low even at the current rate, and people are trying to take advantage knowing that rates will begin rising fast in the coming months. A shortage of inventory and a growth in population has kept supply low over the years while demand continues to rise.
The shortage was further exacerbated by COVID-19. Supply chain disruptions, labor shortages, and the rising cost of materials have also contributed to the lack of inventory. There is currently a gap of more than 5 million units and single-family homes are being constructed at a slower pace since before the great recession.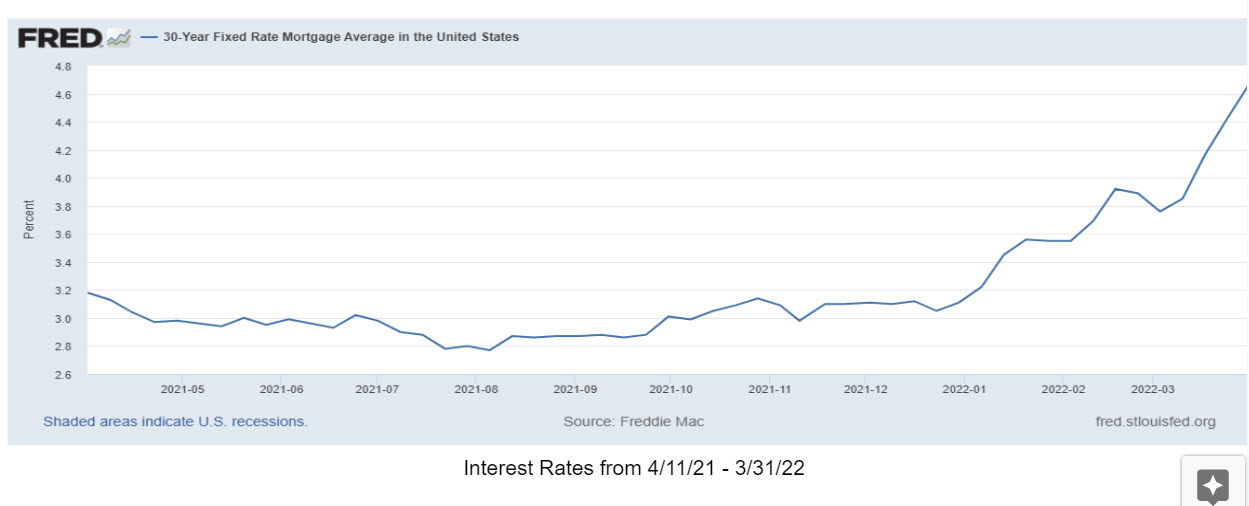 The current 30-Year Fixed Rate Mortgage Average in the United States as of March 31, is 4.67 percent. It was 3.18 percent April 1 of last year. The average rate in Q1 (2021) was 2.9 percent while the average rate in Q1 (2022) was 3.85 percent. Rates are up 46.85 percent from last year, an increase of 1.49 percent.
It's important to note that, for every 1 percent increase in interest rates, your purchasing power is decreased by approximately 11 percent. The Federal Reserve is calling for five more rate hikes throughout 2022. That suggests it's better to lock in a rate now while rates are lower.
Conclusion
Buying demand remains high while supply remains low. Demand saw a large increase when rates dropped to the lowest in history, but it's possible buying activity may decrease due to expected rate hikes. A combination of underdevelopment, shortage of labor, rising population, low interest rates, and supply chain disruptions have all pushed prices up while inventory remains low.
If you are a buyer, take advantage of the current rates because both interest rates and prices are rising, buy now while the cost of borrowing is low. In this seller's market, prices are still forecasted to rise so selling now would be great while buying is affordable.
Do you have any questions about the market? Whether at the national, state, or local levels, please, don't hesitate to reach out. I am here to answer your questions. If you are curious about the value of your home, feel free to send an email or give me a call. Prices in the county are up 3.7 percent YTD, and up 11.1 percent over the last 12 months.
Sources: MRED, NAR, RCG, NAHB, FRED, HUD, U.S. Census Bureau
Ricardo Lavariega | REALTOR®
Licensed in IL & WI
(262) 215-5296
rlavariega@daprileproperties.com
www.realestatericardo.com