"Exposing Radicals' War On Children" Event
By Karen Tirio
02/01/2923
McGOPAC
is hosting a bold and informative event...& we're not holding back!
"EXPOSING THE RADICALS' WAR ON CHILDREN"
is the most important event since the truth came out about American Education and concerned parents were labeled 'Domestic Terrorists!'
Saturday FEB 25th, 9am - 4pm; Holiday Inn Crystal Lake
This one-of-a-kind, all-day Summit with 5 National Speakers, Researchers, and Advocates will empower communities to Get-Out-The-Vote, abandon the woke agenda and PUT ACADEMICS FIRST to give America's kids a fighting-chance!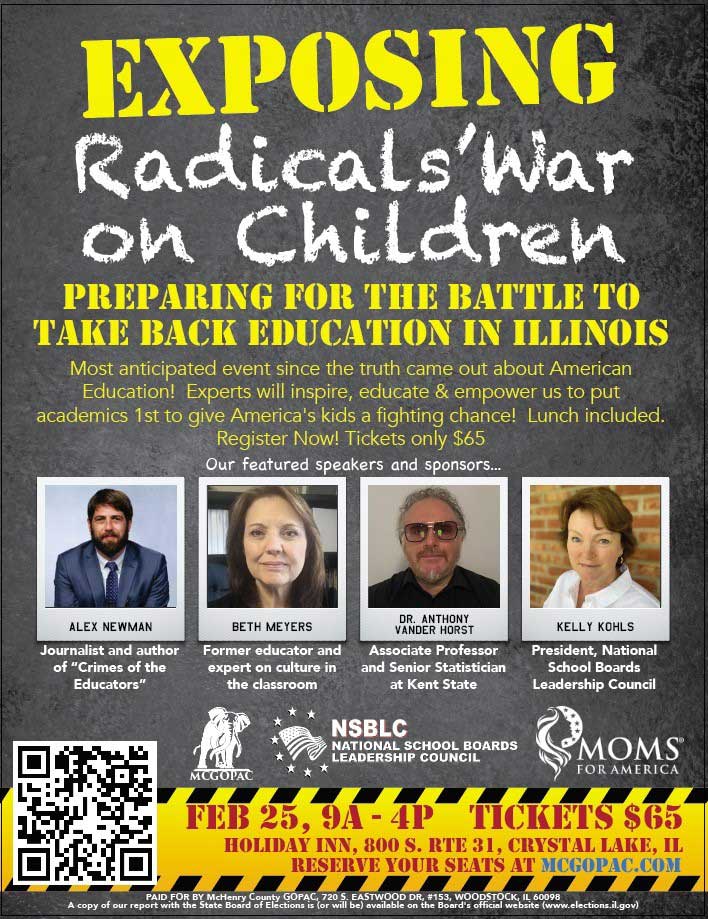 To secure tickets and sponsorships, go to https://www.mcgopac.com
---
~ ABOUT THE EVENT ~ WHO WILL BE THERE ~
ALEX NEWMAN
, is an award-winning international journalist, educator, and consultant who seeks to glorify God in everything he does. In addition to serving as president of the media and information consulting firm Liberty Sentinel Media, Inc, he has written for a wide array of publications in the United States and abroad. He currently serves as a contributor to WND (World Net Daily), an education writer for FreedomProject Media, a foreign correspondent for The New American magazine, a contributor to the Law Enforcement Intelligence Brief, and more. He has also written for numerous newspapers and magazines such as the Gainesville Sun, Liberty magazine, The Diplomat magazine, Crisis magazine, Swiss News magazine, Sunshine State News, Campus Reform, Alachua County Today, and many more. His work has been featured at Drudge, Breitbart, Fox News, and many other outlets. His writing has been published in major newspapers across America.
Alex Authored 'Crimes of the Educators: How Utopians Are Using Government Schools to Destroy America's Children,' and was also featured in the recent documentary 'Truth and Lies in American Education' . Alex will expose the corrupt tax-funded educational system and explain how parents must assert their right & duty to protect their children or lose, not just their children but also their country and their freedom.
ELIZABETH MEYERS
- Independent Research Consultant & Education Advocate - Presentation: Clash of worldviews in education, how one came to dominate the system, and how it manifests in the classroom.
KELLY KOHLS
- National School Board Leadership Council, President - Whose mission is to offer real solutions to breaking the cycle of underperforming schools.
ANTHONY VANDER HORST
- Kent State Professor - Department of Sociology and Criminology, Teaching and Research- Education Apologetics: The Pitfalls, Failure and Constructive Criticism of Diversity, Equity, and Inclusion programs in the schools.
EMILY MCNABB
- 'Follow the Money: The ESSER Trail.' Breaks down substantial payouts to the education system due to Covid-guised mandates & federal contract binding schools to comply with all the assurances.
DEB KRAULIDIS
- Moms For America: Empowering Moms, Promoting Liberty & Raising Patriots!
JOHN ANTHONY
- Former IL State Rep and AM560's Host of 'Black and Right'
AND MORE !
❤️
PROUD SPONSORS:
National School Boards Leadership Council
Moms for America
The Patriot Academy
Liberty Sentinel Media
Learning Tree Christian Co-Op
Gary Lang
AM560, The Answer
Calling all: Patriots, Taxpayers, Concerned Citizens, Advocate groups, Homeschoolers, Parents, Educators, Legislators, *School Board Candidates* to join us!
To secure tickets and sponsorships, go to https://www.mcgopac.com
Karen Tirio
McGOPAC, Chairwoman
815.355.4553